More Information:
♦ Width: 10MM
♦ LED Light Source: SMD5050
♦ PCB Board Color: Black
♦ Light Color: RGB
♦ Waterproof level: IP20/IP65/IP68
♦ Working Voltage: DC 5V
♦ Output Power: 2W/M
♦ Type:30LEDs/M/60LEDs/M
♦ Operating Temperature: -40°C~50°C
♦ Warranty: 3 year
♦ Cuttable: every 50MM
♦ Certification: CE,UL,C-TICK,KC,PSE
♦ Material of Adhesive: 3M double-sided foam tape
---

Application scenario: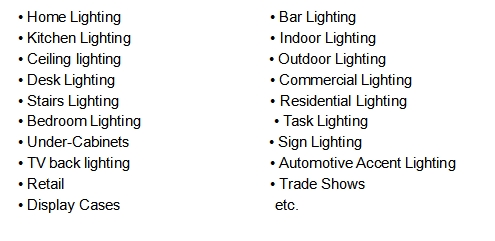 ---

Which can be customized?

►Length
►Light Color
single color/RGB/marquees/etc.
►PCB Board Width and Color
8mm/10mm/12mm/etc.
white/black color
►Lamp bead type
SMD2835/SMD5050/etc.
►Waterproof type
Non-waterproof (IP20)
Silicone coating waterproof (IP65)
Silicone coating sheathing waterproof (IP67)
Glue-Pouring Waterproof(IP68)
►Connection line and length
22awg/24awg/etc
►Material of Adhesive
3M double-sided foam tape/Ordinary tape/no double side tape
►Controller
Corresponding controller can be provided
►LOGO
►Packaging method
►etc.